DISCLAIMER: I am not the founder / owner of the DogeCubeX project. You can find all the official information on their website (https://dogecubex.live/)
---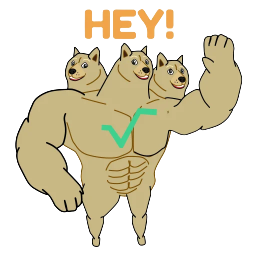 What is DogeCubeX?
DogeCubeX is a centralized exchange, where you can buy and sell different tokens. It uses an Automated Market Maker, which basically means you get a fair price depending on the available pool size and your order size. The project was born from Radix first memecoin, DogeCube.
How much I can trade here?
You can do a maximum worth of 500 XRD trade in one swap. However, if you are staking with DogeCube validator, your trade limit increases linearly. Check the up-to-date trading limits here.

You can do as many <=500 XRD swaps as you wish, the limit only applies to one swap.
Which tokens are supported on DogeCubeX?
DogeCubeX continously adds much-requested and highly reliable projects. You can check the available tokens alongside with their current price here.
How to swap?
In the Swap page, you need to fill your order and follow the instructions. Let's say we would like to buy Dogecube native token, DGC. We have 100 XRD to do that.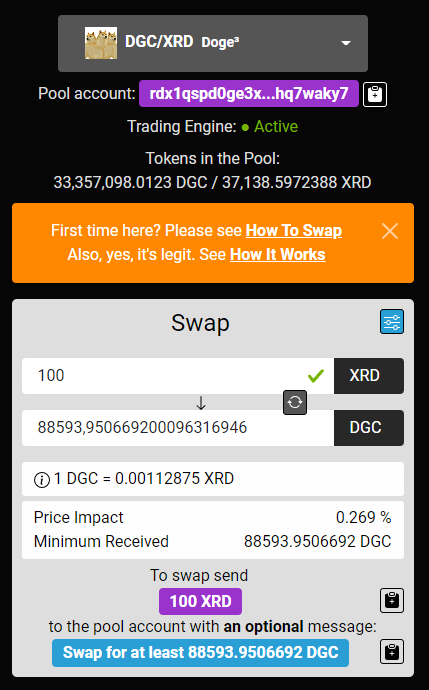 In this example, you need to send 100 XRD to the pool account (highlighted in purple) and you will receive your DGC in your wallet (the wallet you sent from) right away. For more swapping details, slippage, please head over to here.
Is there any additional cost?
Currently, the fee for your swap (buy/sell) is 1% plus a small 0.1 XRD fee to cover Radix Network transaction fee. For details, please check their Fee page here.
---
DogeCubeX is an easy-to-use, but really useful project. If you plan to trade with Radix token, I recommend using it, since they provide a very reliable service since their start. If you have a question for the Team, feel free to reach out to them in their official Telegram group.