Which exchanges you want the radix should be listed and give some valuable feedback why you choose that exchange ??
Obviously I'd like to see the big boiz list XRD; such as Binance, Coinbase, FTX, etc., but things like this can't be rushed. Impatience will only hurt the project, and in my opinion, listing to these major exchanges in a bear market won't be a good long term play.
Binance and or Coinbase. We need Top Exchange listings.
In that case I hope Radix can be listed on Binance soon, maybe some people think it's for sure we want it but. I want radix to appear on the Tokocrypto exchange soon. This is a little tricky because to be listed here you must have a coin registered on Binance.
It's certain that there are a lot of crypto enthusiasts here.



Coinbase, Bitvavo and Binance
I think it should list in binnace so that it will easily available and all over world everyone will know about xrd
Being listed on the major exchanges is a big deal for any project, but in the case of XRD, the best solution is to proceed step by step: since there's a lot of growing potential behind this project, we - as community - should first keep on finding innovative ways to promote the project and its future benefits among people.
wenbinance


No need to rush things imo, they'll all be happy to list in due time
When in kucoin. Kucoin itu is good exchange
Radix is already listed on Kucoin.
yes sir, but still in erc20 network not xrd
You can easily swap exrd using Instabridge. It's simple and the ratio will always be 1:1.
If it gets on kucoin we will be sitting well.
Everyone's sayin Binance and Coinbase, but honestly, you know a crypto is really successful if it's listed on an Indian exchange

because the choice selection is very less. Being an Indian, XRD getting listed on WazirX or CoinDCX will definitely make it much more convenient for me. But also it would be indicative of Radix's general popularity.
Well thankfully the team have done a great job and its listed on quite a few now, but of course binance would bring it alot of exposure , its only a matter of time and I think will be there by end of the year
At first, we should concentrate on having the currently available exchanges work correctly.
Having a Bitfinex outage 10 days for example was a pretty bad situation. Also, I have heard now users reporting issues with Gate. So yeah, first things first.
Kucoin is most likely to follow up imo, but Binance will be the ultimate game changer.
I want to list on kucoin, coinbase, binance . Because this is my favorite platform. I think soon it will list on these exchanges.
The fact that radix is making moves in a bear market, this is good. @FadFat there's no need to rush, the project will be gradually listed on the various CEX. To give you an example, just two days ago, BitMart tweeted this.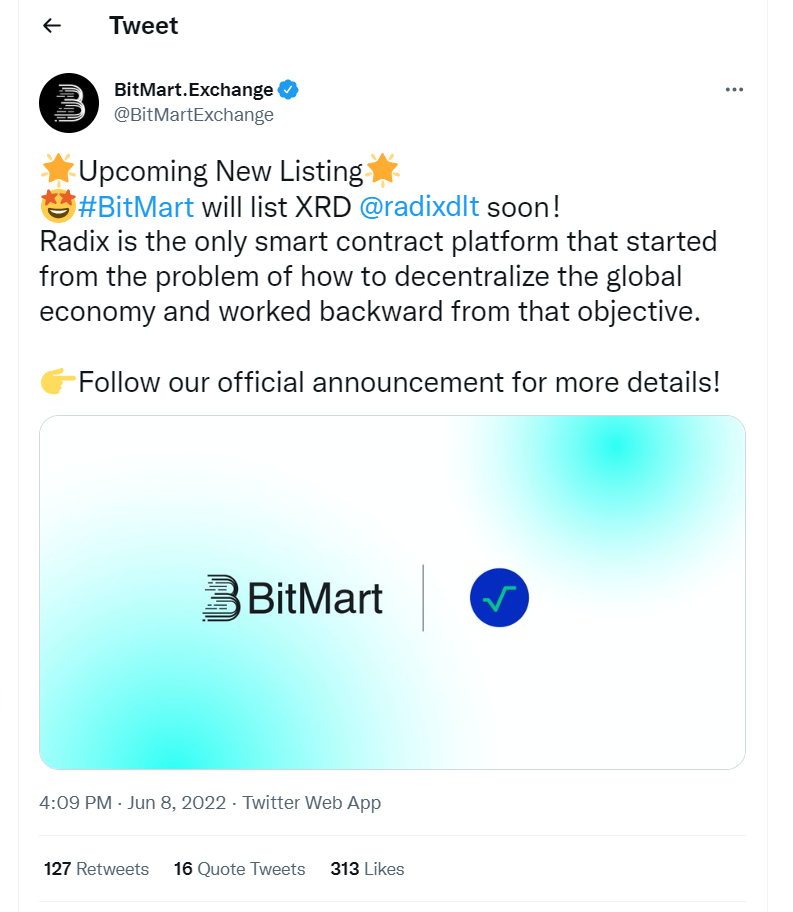 This is probably what the community has been waiting for about Wen listing?, Wen Binance?, Wen marketing?.
I just wanted to add Wen buy more, And several new exchanges have also come with us. Let's check it out together.
Within 12-18 month xrd will list on binance. If you want to list soon on binance then buy and hold. If any big news come from xrd team then I hope binance will list.