Can you guess what will be the price of XRD after 10 years , please give your valuable opinion
Purely speculation for me, based on current market caps, the assumption that atomic composability is achieved, and a self-fulfilling confirmation bias, I could see this hitting minimum 10 bucks.
I think XRD price will be $20-25 after 10 years


i don't like to speculate but i think in a range between 4-5 usd.
I think XRD price will be $22 after 10 years and in that effort we must ensure that the entire radix ecosystem continues to be active.
in this case the comparison with ethereum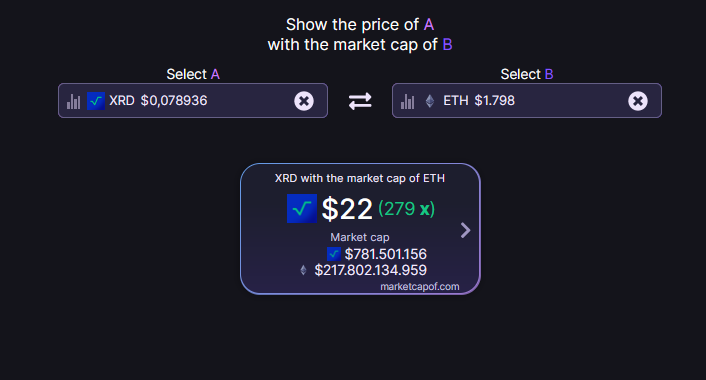 what if we have same problems like Solana after Xian?
this is probably a problem that could happen. in this case I just hope that scrypto can be an antidote to possible attacks, but with 1M TPS
*if it can be realized this attack is not likely to have a big enough effect on radix
This kind of fud issue will probably affect the price, 30% of my expectation.



A 250 Billion valuation seems not unlikely at all, so lets assume they reach 50% of that so 10-12usd
According to today team work very hard. And xrd will goes to 80-85$ in next 8-10 year because it's a potential project
We wont… we have Dan… and he is great
lol 400-600 usd lol

thats a 3 trillion marktcap.



I think radix price will be 25$+


some newbie don't know about market
Do you think radix will burn
With the current inflation and advancing tech I dont even want to imagine what will happen to the dollar in 10 yrs.
My best guess: XRD > ETH
this is a very good project, very easy in the future $10-9999999
First off, I feel like this question was posted in the wrong category. Questions/Help
Second, I just realized from these replies how pessimistic and/or conservative my thinking is lol.
More, 50 because you have not factored in that the entire market is going to continue to grow and grow , this is based on current mc, we dont know how big it will get but much bigger than it is now
When will we know if atomic composability is achieved, at what point in the roadmap ? Is that 2023, why would it not be achieved ?
10 years is a long time, you can only speculate there. If Radix can solve what it claims, 50 USD is the minimum for me. If we use it our everyday life later, then we can go higher.
Yes it might happen but realistically right now it's a pretty big target. we are all at the beginning of the journey. if previously lita was left behind from ETH, let's join in one XRD rocket and together witness the capitalist transition from ethereum to radix