Everyone want to be rich.
So, How to make money From Radix.
Just stake and enjoy the ride… ociswap and caviar will be awesome
my best guess: DYOR, so there wont be noone to blame

From my current observation staking airdrop is one of the best solutions to create money in the future, but buying something alt to invest is also necessary, but you have to DYOR


. You may experience staking risks, such as taking more than 2 weeks with 500 epochs to unstake and maybe price reduction.
Some of the options are:
staking airdrops Ociswap, Delphibets, Radix Gold. investment messages like radit. Buy NFTs to get Radish, Dreamix, and Art Token share holders.



*I make sure don't forget to hold Dogecube
To make a lot of money you need to build so I'd recommend starting to learn scrypto! Maybe even join the scrypto class of 2022!!
If you want to make money from Redix, Now you have to buy $XRD and hold it and staking it.
Just hold and stake in the wallett, easy
I wonder where I can learn scrypto from the basics. I'm not a programmer who knows coding, can you tell me where to study it?
Previously I had self-taught through the docs, but some errors and crashes occurred. I use windows 10 to operate it.
First and foremost, you have to hold them no matter the current market situation.
Moreover, you can stake your XRD in the desktop wallet, trade/hold NFT projects you believe in, and also participate in twitter giveaways.
@Dwiki: If you want to learn Scrypto specifically, I suggest you reading this thread: How to get started in Scrypto. It gives you a few important resources you can start with.
Do you mean crypto or scrypto?
Can't believe so many people are saying just stake your XRD. For me, staking is actually a hedge against riskier plays. If you really want to make money from Radix, buy Radix NFTs (they are not NFTs yet, technically, but you get my point). Investing in the right NFTs can give you great returns and help you get more XRD than what you started with.
I was not smart or fortunate enough to buy too many scorps in the beginning. But there are many new projects out there. You need to get a feel of which projects, the community is interested in, and also the art that you are liking and then buy the NFTs. Flip some of it, keep some of it. Also stake to hedge against losing all XRD inrisky NFT plays, but try it out to increase your stash.
Can also try trading other coins like Oci etc.
staking xrd.
buy and flipp nfts

You can Buy $XRD on Bitfinex and staking, enjoy the apy 12%
From my thinking buy and hold xrd , participate on radix airdrop and stake radix. Buy and hold xrd 3-5 year you will be a millioner
the big news is now apy is at 14% and more rewards we receive.
Why do you prefer staking on bitfinex? The apy is not so different from directly staking on radix after all…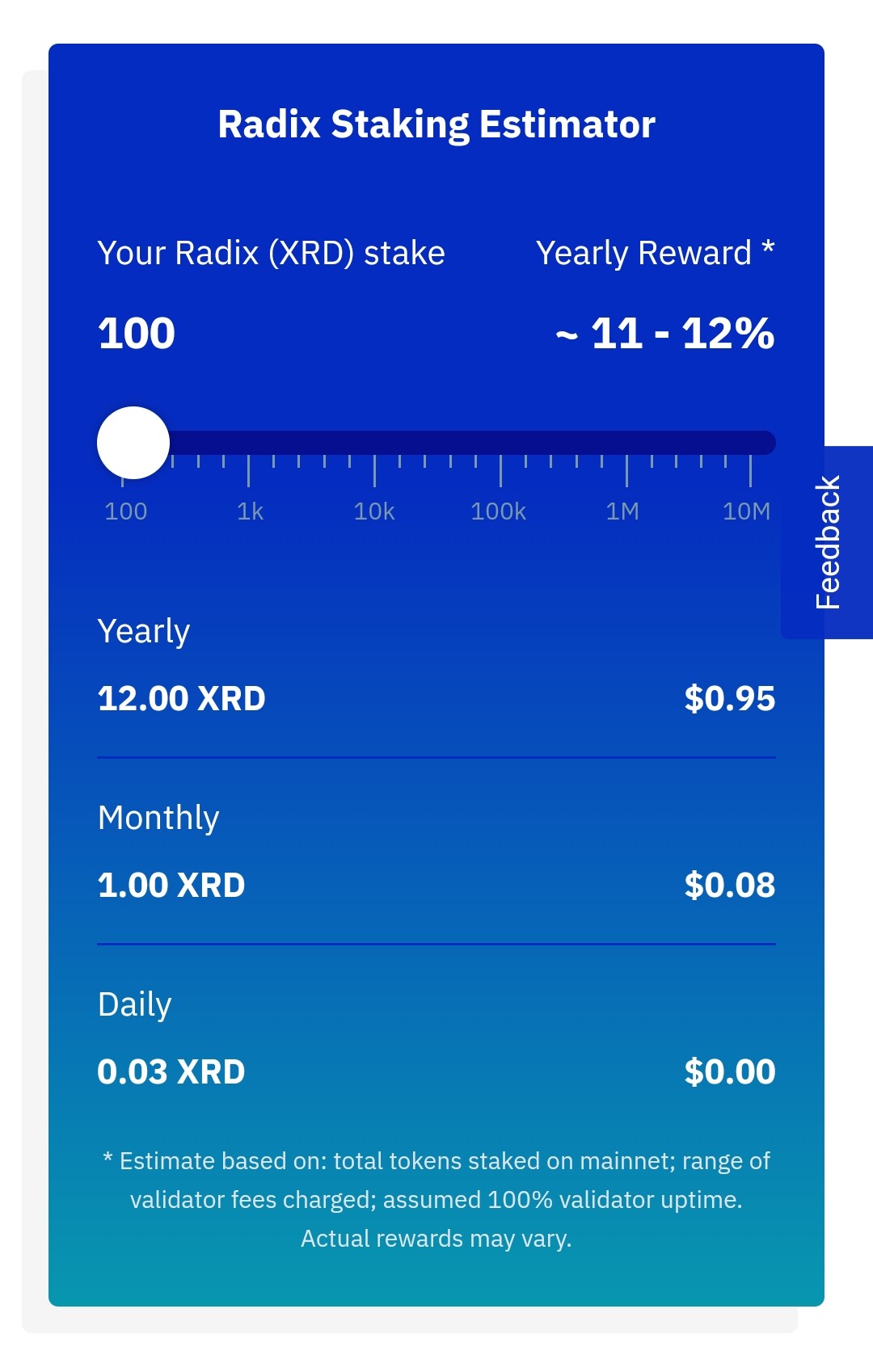 Yes, and also don't forget that many validators offer valuable airdrops. I won't go into details here (can be found in many topics on this forum about validators), but it is definitely another advantage that should be highlighted.
Staking on Bitfinex makes you dependant on the CEX which should be avoided especially in this bad market conditions.
Do you think you will be a millioner by 2027 just by staking radix ? How many tokens is this based on ? @ZitaDonDon yes that could be very lucrative I have 5 scorps and 20 spunks so hopefully we will see


@AV7744 Trading oci has been amazing for me I have been buying more and more and price has doubled since then and will keep going up. @Cryptoshrimp Great are you a dev ? @Satoshi Is caviar building a dex ? If so how can we get their token ?
@TamasH
A person should never stake on a central exchange, first it means you dont have the tokens in your wallet and we have seen recently how some big exchanges have stopped withdrawals, also you dont get the airdrops which are super valuable and also the network is not secured, if we say we care about radix as much as we do and its a great project then we need to help it be secure ! Every bit counts.
I keep thinking about it lately the market has started to slow down and the fall is starting to feel steady, although not for long I think we will hit a new bullish point in another 2-3 years.